Oregonians have been encouraging their communities to reduce the spread of COVID-19 by wearing a face covering.
SALEM – In light of the continued spread of COVID-19 in Oregon––including a troubling rise in cases of community spread that cannot be traced and contained––Governor Kate Brown announced new statewide health and safety measures, including new requirements for face coverings in public spaces all over the state. Starting July 24th, face coverings became required for all Oregonians ages five and up in indoor public spaces and outdoors when six feet of distance cannot be maintained.
"As we learn more about COVID-19, evidence continues to mount that face coverings play a critical role in reducing transmission," said Governor Brown. "We have to live with this disease for a while. And that is going to require adjusting our habits––taking the simple step of covering our nose and mouth in spaces where we interact with others.
"We wear face coverings to protect the doctors and nurses working day and night in hospitals and clinics around the state. We wear them to protect our elderly neighbors. We wear them to protect kids in cancer treatment and people with compromised immune systems. We wear them to protect the grocery store clerk and the pizza delivery gal. We wear them because we don't want to accidentally kill someone.
"It's really that simple. Face coverings save lives."

People from across the state – including Oregon's kids, doctors, veterans, and National Guard members – have raised their voices in support of wearing masks.
For example, Jeremy Ebobisse and Diego Valeri of the Portland Timbers filmed this PSA on masks.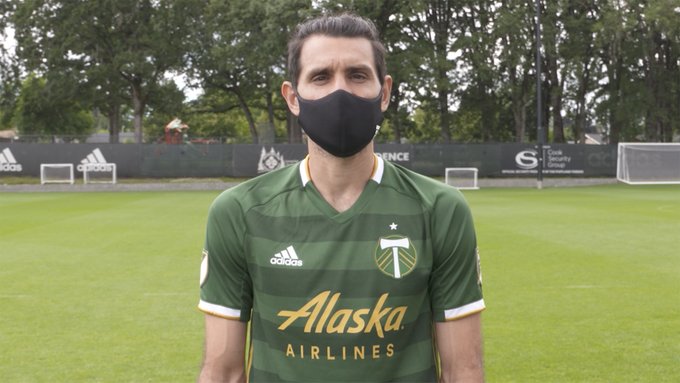 "During the COVID-19 pandemic, we all need an assist from each other by wearing our masks, especially when we're inside or we can't stay 6 feet away from each other," said Ebobisse. "Our masks protect others, and their masks protect us. This is what makes us a team."

Staff Sergeant Bob Van Voorhis, a Vietnam War veteran from John Day, has spoken out about being high-risk to contract COVID-19 after suffering the effects of Agent Orange. He has been an outspoken advocate for other veterans who are often also high-risk.

The Oregon Zoo also got in on the action, with zookeepers demonstrating that wearing a face covering can slow the spread of COVID and help keep the Zoo open to visitors.
With the face coverings requirement being lowered from age 12 to age 5, many younger Oregonians had questions about wearing masks: Are they safe? How do you put one on correctly? Medical experts from Oregon Health & Sciences University (OHSU) and Peace Health answered in simple terms.
You can watch some of the videos below.
Oregon National Guard Members
Oregon Military Veterans
Kids Ask, Doctors Answer
Thousands of Oregonians have made themselves very clear: wearing a mask isn't a political statement. It's simply a way to keep your community safe.